---
Napęd, silnik, sprzęgło i skrzynia biegów - Silnik Puma- 1.7 Yamaha?
---
Anonymous - 08-06-2008, 19:25
Temat postu: Silnik Puma- 1.7 Yamaha?
---
Mam pytanie odnośnie silników w Pumach 1.7 , to prawda,że mamy pod maską silnik japończyka? Czy to są tylko Fordowskie jednostki wzorowane na Yamaha...? Dużo sie o tym mówi,ale chce wiedzieć więcej, ile np. producent zapewnia maksymalnego przebiegu? itd
---
Boogie - 08-06-2008, 19:44

---
Silniki konstruowane wspólnie z Yamaha
---
morgan - 08-06-2008, 20:23

---
Co do przebiegu to zawsze zależy od kierowcy

ale jeżeli wymiana rozrządu wyznaczona jest na ok 100 tyś km no to chyba jednostka musi mieć dużą żywotność.
---
Anonymous - 09-06-2008, 00:32

---
A więcej szczegółów odnośnie tej jednostki? Jakie były założenia,plany Yamahy z Fordem odnośnie jednostki 1.7 Vct. Wie ktoś? Pytam,bo ponoć to udane motory

---
Gaydek - 10-06-2008, 11:32

---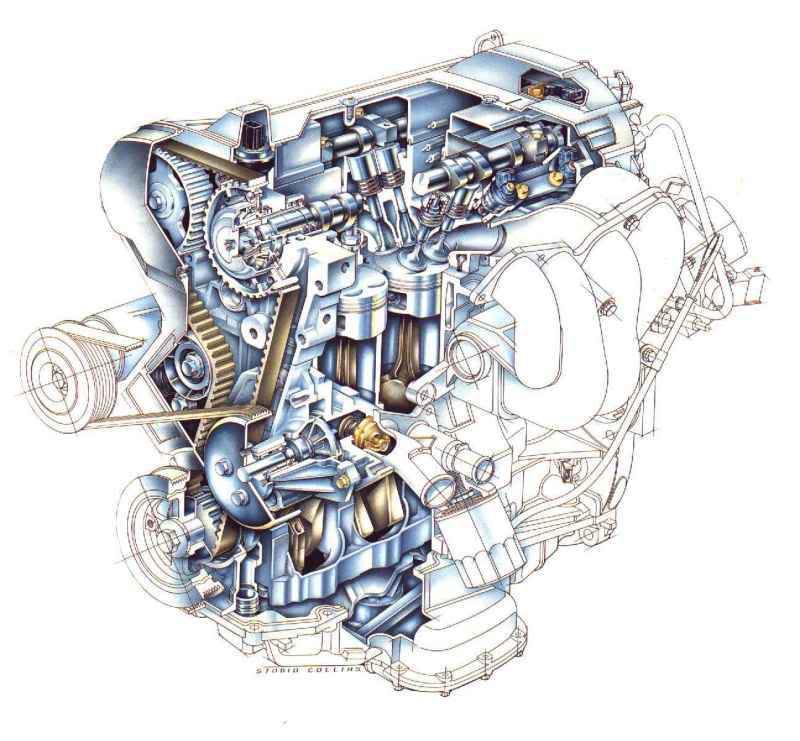 Cytat:
Ford/Yamaha engine information



At the heart of the Ford Puma is a powerful new high-tech engine, the 1.7-litre, 125 PS (92 kW) Zetec SE. With a wide range of torque, it has been designed and developed for driving excitement, with innovative technology complementing the acknowledged strengths of Ford's advanced 16-valve Zetec SE engine family. It is the first Ford engine to include fully variable cam timing (VCT), which increases the engine's flexibility and contributes substantially to its overall responsiveness. This is characterised by the engine's extremely flat torque curve, with over 85% of peak torque delivered from as low as 1,500 rev/min right up to the limit of 6,750 rev/min. For the driver, this provides a free-revving engine which accelerates eagerly throughout the range.

Fully Variable Cam Timing (VCT) is new to this class of car and Ford is one of the first manufacturers to introduce this advanced technology. The introduction of the variable cam timing increases the challenge for establishing optimum engine calibration. Extensive tuning of the VCT - in conjunction with the induction system, fuel preparation and gas dynamics - has allowed the engineers to achieve strong torque throughout the operating range, giving Puma sustained pulling power and driving flexibility. Also completely new on the 1.7 Zetec SE is special, low-friction nickel/silicon plating within the cylinder bores of the aluminium alloy engine block. This provides a durable, highly wear-resistant surface in place of the cast-iron liners used in the smaller members of the Zetec SE family, which represents a further weight saving for one of the smallest and lightest engine designs currently in production. It therefore contributes to the Puma's very creditable fuel economy figure of 38.2 mpg (7.4 litres/100 km) over the new European Drive Cycle.

The Puma also has a highly responsive throttle, with shortened travel and a sporty feel, thanks to a unique, profiled cam throttle-opening mechanism, which is fitted in place of a four-bar link mechanism used on other Zetec SE engines. This carefully matches accelerator pedal travel with the engine's torque delivery to achieve optimum throttle response. The cam profile was developed over a period of weeks using a surrogate computer-controlled electronic throttle. Ford's engineers also have paid particular attention to the sound of the engine through extensive consumer testing. This testing led to engineers refining the engine sound by careful tuning of the air induction system, including the development of a new induction manifold with almost equal length induction tracts. These helped provide an audible but balanced noise level whilst cruising, with a definite sporting character during acceleration. In common with the other members of the Zetec SE family, the 1.7-litre provides low levels of engine noise, vibration and harshness, and low emissions to achieve the latest EC emission standards.

he engine in more detail The lightweight, 16-valve Zetec SE engine family was introduced in 1.25 and 1.4-litre formats for the 1996 Fiesta, to provide extremely high levels of efficiency, operating refinement, durability and performance feel. The new 1.7-litre variant shares the same basic engine design and benefits but - compared with the 1.4-litre version - has a significantly larger bore (80 instead of 76 mm) and stroke (83.5 instead of 76.5 mm). The 1.7-litre's unique aluminium alloy head is fitted with four valves per cylinder, which have larger heads than in the smaller engines. This proven multi-valve technology increases gas flow by up to 50%, compared with relatively larger single valves, providing greater power and also improving low-speed torque. The smaller valves also have less inertia, so higher engine speeds can be achieved efficiently. Most of the multi-valve advantages occur naturally at
wide-open throttle (though the beneficial effects can be traded off to improve overall performance).

One way to extend the benefits of a multi-valve engine is to vary the camshaft phasing, so that the point at which the inlet valve opens is chosen by the engine management computer according to actual running conditions. Valve lift and opening duration remain constant, but the timing of opening and closing is adjusted over a wide range. Ford has been working on such fully variable cam timing for some years and the system makes its European debut in the 1.7 Zetec SE. The timing adjustment is provided by a sliding sleeve between the camshaft drive sprocket and the shaft carrying the cam operating lobes. Gearing on the sleeve meshes with gearing on each of the adjacent surfaces, and the sleeve is moved hydraulically by engine oil pressure, controlled by a solenoid-driven valve. The whole process is controlled according to a calibration map stored in the EEC-V engine management computer. A more complex cam profile also had to be developed to match the VCT.

The advantages of the variable cam timing are higher levels of power and increased low-end torque, and a smooth transition from low RPM – high torque, to high RPM - high power operating modes. It also provides improvements in both fuel economy and idle stability. It even produces lower nitrogen oxide emissions, as the system also provides effective internal exhaust gas recirculation. The 1.7 Zetec SE is also the first Ford engine where the hardened steel shims sit under the head of the tappet. This allows for a larger operating diameter than a top-mounted shim and for more aggressive cam profiles. The lower masses allow for increased rev limits.

To handle the increased power of the 1.7 engine, the high-strength crankshaft and con-rods are made of forged steel, and the larger, light-weight alloy pistons have low-friction coatings and fully floating pins.
Other engine features of note include:-
· Four-port, electronically controlled fuel injectors, for increased fuel flow and improved mixture preparation
· Close control of the air/fuel ratio, spark timing and gas dynamics, for consistent power delivery and low emissions
· Double overhead camshafts, with long-life drive belt
· Increased oil pump capacity to allow for the oil flow used in the variable camshaft timing
· Lightweight magnesium cam cover
· Induction system tuned for the most effective combination of low-end torque and top-end performance, including a unique cast two-piece aluminium alloy inlet manifold
· Precision closed-deck sand-cast aluminium alloy block
· High rigidity bottom end features, including a separate cast aluminium bearing beam and a new larger rigid oil pan
· Unique engine mount set, to handle the additional torque of the 1.7-litre engine
· Low levels of NVH – noise vibration and harshness
· Low maintenance requirements

Developing and manufacturing the engine. Conceived by Ford, the Zetec SE engine family was co-developed in conjunction with Yamaha.

This association has been developed further for the 1.7-litre derivative, utilising the special strengths of both companies under Ford's overall programme management. The engine blocks and bearing beams, for example, are fully machined at Ford's engine plant in Valencia, Spain, alongside the mainstream Zetec SE engines, and matched with other key Ford-produced components such as the fuel system, wiring harness and throttle body. Ford developed the variable cam timing technology jointly with INA Motorenelemente Schaeffler, KG, as well as working in conjunction with Yamaha on the engine's performance and economy. Yamaha's responsibilities included the development of the dedicated nickel/silicon bore plating process, which is carried out alongside the engine assembly facility. The plating process alone takes 20 to 25 minutes per block, part of a low-volume assembly operation which would not be practical within one of Ford's own conventional engine plants.



(c) Ford Motor Company
---
bania - 10-06-2008, 12:54

---
o kurde

!! myslę że to wszystko na temat silnika 1.7. troszkę szkoda że nie po polsku- milej by się czytało
---
Anonymous - 10-06-2008, 21:56

---
Własnie, a masz

Gaydku

po PL?
---
Gaydek - 10-06-2008, 23:36

---
Trzeba było uczyć się języków obcych

.


Hadzi napisał/a:
masz Gaydeku po PL?

Nie mam. Czytam i rozumiem z pewnymi brakami w słownictwie fachowym, ale nie mam czasu tego pisać. Może kiedyś.
---